Digital Vs. Discs
With next gen consoles comes the next conundrum, digital vs disc copies of games. As one of my friends said, why do they even bother putting disc trays on the new consoles, they shouldn't be needed any more.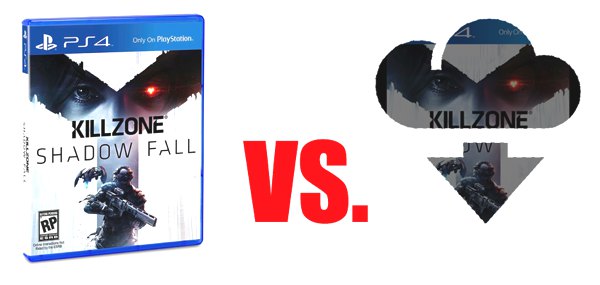 Here's the issue, for some strange reason digital copies of games available on Xbox store or the PS store are consistently more expensive than the hard copy counter parts available on the high street or on-line delivery stores. This makes no sense to me they cost £10 more with no chance of re-sale, so you loose money at first with no chance to get anything back! It makes no sense!
Hard disc copies of games should cost more because they have to make boxes for the game, the manual (which are becoming worse every year) and the disc, then they need to send them out to various places around the world. Although it won't cost much per game, the costs will be felt over the whole shipping amount. The only time I really want a hard copy of a game is when they come with something more in the box, like GTA and Elder Scrolls give you a map, simple yet much appreciated.
Disadvantages with digital copies of games is firstly you cannot sell the game on when it gets stale. Secondly, the time it takes to download can take a long time and in some cases people have download limits, lack of internet isn't an excuse any more, pretty much everyone has it, if you have a next gen console without internet, then something is wrong. Finally, you cannot lend a game to a friend to play for a couple of days, not a problem that happens often, but it happens enough to make it annoying.
So, what needs to be done? Make digital games cheaper than hard disc copies, this way games developers will make more money in the long run, they won't have to loose out to pre-owned sales and there will probably be much less piracy. Seems like a win win in my eyes. On top of this, sales can happen like steam does, PC gamers never seem to complain too much about steam downloads, they are always cheaper and then they get sales as well. Consoles are lagging behind and need to catch up!
I feel there must be a reason this hasn't happened earlier. I feel like it could be people who don't like change, so complain when its announced. I'm sorry but change has to happen to progress, get with the times and embrace it.
To finish, make digital games cheaper, it will make gaming easier. Thanks!
Thanks for reading
Stay awesome
Please like follow and share!
Twitter: @booboothy
Facebook: Boo Tube
Check out www.thealicejones.com too for well being, beauty and fashion blogs!
Dan Booth
British gamer and technology addict.