Things to do at The Open 2014 (West Kirby)
If you are coming to watch the Golf Open 2014 at Royal Liverpool, you may not know where to go when the Golf isn't on in the evenings. I will be writing some of the better things to do while on the Wirral Peninsula to make your experience as enjoyable as possible!
Part 1 West Kirby.
The two closest Towns to Royal Liverpool are Hoylake, which is the closest to the clubhouse, and West Kirby, which is closer to the entrances by holes 9, 10, 11 and 12. Both Towns have great bars to go to and they are normally thriving when the sun is out.
Once leaving the course from entrance 6, turn right on the main road and follow it to the town centre.
The Bars
The first bar you will notice when entering West Kirby will be the Wro. There are 3 Wro's in close proximity. The Wro bar, The Wro Lounge and The Wro Loft. The Wro Loft is generally used for private hire. The Wro bar and Wro Lounge both offer drinks, if you would like food as well you will be better off in the Wro Lounge. The Wro's are well priced and have great atmosphere, theres plenty of space to drink outside if the weather is good too! The bar has won multiple awards for best bar staff as well.

For more information check out the website: http://thewro-lounge.co.uk/pages/venues/loft.php
West Kirby Promenade and Beaches
A must walk for lovers of the sea. Royal Liverpool is a seaside course, as is West Kirby, the seaside has views over to Wales across the river Dee. There's normally sailing going on at the same time as well. The marine lake can showcase excellent sail boat races. West Kirby Sailing club hosts the Wilson Trophy every may.
http://www.visitwirral.com/attractions-and-activities/west-kirby-beach-p243111
Hilbre Island
Fancy a walk out to an Island accessible only when the tide is out? Well you can start walking from West Kirby beach towards it if you can find tide times (check link below). Hilbre island is a local nature reserve, and its free to visit. The main attraction is the views as well as bird watching.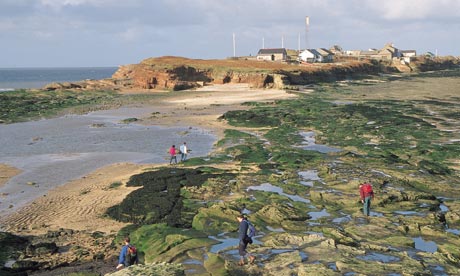 http://www.visitwirral.com/attractions-and-activities/hilbre-islands-p17578
Restaurants
After a long day walking around the golf course you will be hungry, West Kirby offers some great restaurants, I won't go into full detail, go down Banks road and you will find some restaurants. I recommend Milan, they make brilliant dishes for very good prices, the portions are good and the staff a great!
http://www.milantherestaurant.co.uk/
Hickory's is a great new bar/restaurant that launched more recently. Its an american smoke house that brings an American feel to the Wirral. Hickory's has been extremely popular since it opened its doors, with amazing food and great drinks it is the perfect combo!
http://hickorys.co.uk/westkirby/
I hope you enjoy West Kirby, the small seaside town will no doubt be buzzing when the Opens on, don't hesitate to ask people where things are, most of very friendly.
Thanks for reading
Stay awesome
Please like follow and share!
Twitter: @booboothy
Facebook: Boo Tube
Check out www.thealicejones.com too for well being, beauty and fashion blogs!
Dan Booth
British gamer and technology addict.