World Cup Madness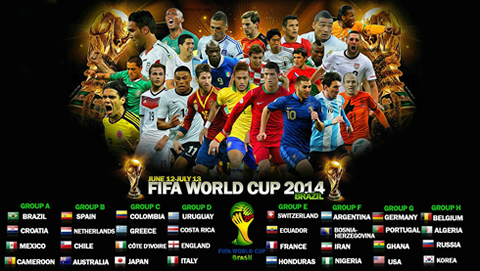 As the ITV intro goes, Brasil, Brasil! The World Cup is only a couple of days old and already it has started off with a bang! Controversy, close matches and some fantastic goals have featured already and its only day 3!
The highlight so far and possibly the performance of the Tournament goes to Netherlands with their dominant performance over the reigning World Champions and Euro Champions Spain.  Netherlands have sent a pretty big message to every other country with their 5-1 crushing of the Spanish side that has suffered just 3 defeats in their previous 64 matches. It appears that Spain are now beatable even when they dominate with possession, they have lost a spark that not even a "proper" number 9 in the form of Diego Costa (I don't like that he got to choose his national team to play for!).  Netherlands used the pure brilliance of Van Persie and Robben to tear apart a suspect Spanish back 4 and punished some poor decision making by the spanish goalkeeper and captain Casillas.
Brazil, the hosts are definitely not on form currently, scraping a pretty close win in a game that the scoreline doesn't show. Brazil were given a penalty that never was, nice dive Fred (great name though). It brings a talking point of punishing players who blatantly dive, they need to be fined a percentage of wage or similar, they are ruining the game.
Disallowed goals are the major talking point so far this tournament. It may spark the talking point of having video replay for possible goals, or give coaches some challenges to allow decisions to get video replays. It would help a lot with poor decision making that are ruining games. Goals change games and when they get disallowed unfairly then something needs changing, its good to see goal line technology, though its yet to be used to its full extent. Now to take the next step FIFA, though FIFA are possibly the worse governing body for a sport in the world and needs a major overhaul.
I look to support England this tournament as always, I also Like the USA though they are unlikely to get through the group of death. I don't think either of these teams will win the whole tournament however, this may go to either Germany or Netherlands.
England play tonight, chances are it will be a dull draw, however, it is a World Cup game, these happen every 4 years and we are not guaranteed to qualify. Get behind the lads, they need the support, the talent is there, they need a little push and some luck to get through though. Come on England.
Thanks for reading
Stay awesome
Please like follow and share!
Twitter: @booboothy
Facebook: Boo Tube
Check out www.thealicejones.com too for well being, beauty and fashion blogs!
Dan Booth
British gamer and technology addict.